News
Trip to Copenhagen and Malmö
junio de 2017
In these golden years of TV series, high-quality titles such as Forbrydelsen, Bron/Broen and Borgen have revolutionized the TV fiction panorama. These Scandinavian productions appear in their own right among the favorites of international critics and such is their success that even Hollywood, in search of a way out of its creative stagnation, is getting inspiration from them.
The universe created in them has encouraged me to visit Copenhagen and Malmö, two cities with an enviable urban landscape characterized by sustainability, great design and a peaceful lifestyle. Two cities joined by the iconic Øresund bridge, which symbolizes the creative model that has produced numerous TV hits in these Nordic latitudes.
Nyhavn, Copenhagen's most famous canal
Visiting TV3 audiovisual archive
May 2016
Each television manages its audiovisual material really differently. Such work varies according to the objectives of the TV company, the resources available and the needs of its users. However, it's the task to which documentation centres assign more resources, both human and material, because the economic value and heritage of audiovisual documentation is enormous. To confirm this in first person, my students from Audiovisual Documentation Management, the course I'm teaching together with Javier Guallar, have visited Televisió de Catalunya (TV3) Documentation Centre.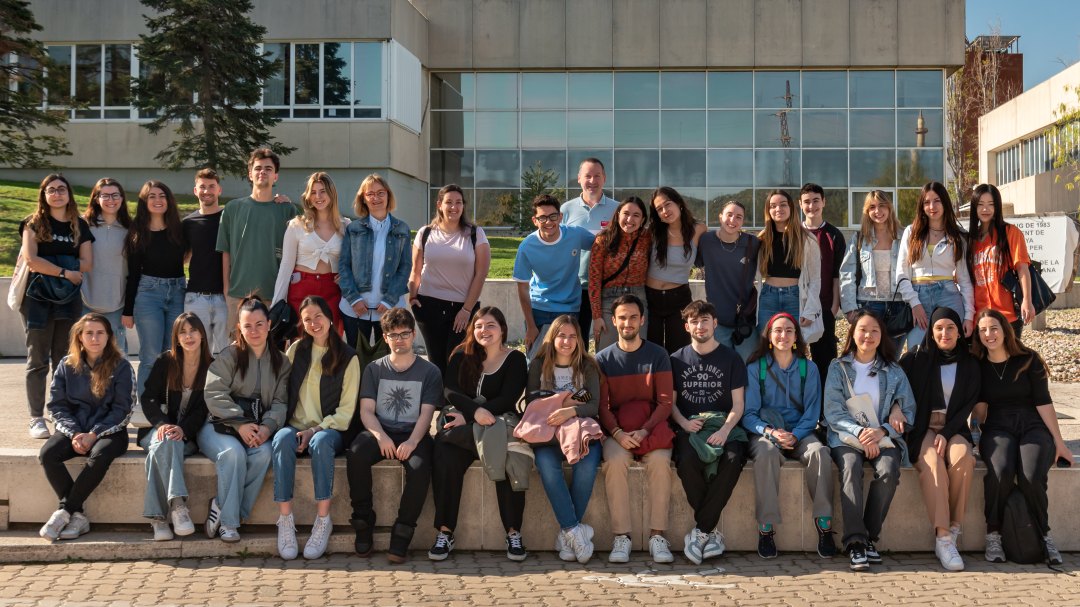 TV3 studios
Interviewed in RAC1: No hi som per festes
May 2018
I've had the great pleasure of being interviewed by Jordi Beltran in the RAC1 program No hi som per festes, broadcasted on May 1st. The conversation has revolved around two very different forms of pollution: informative and radioactive.
First, we have discussed the information overload problem, that is, the excess of information that makes it difficult for us to keep ourselves informed and, therefore, hinders our ability to make decisions.
Then, we talked about the shocking situation of the Chernobyl exclusion zone, in the wake of the trip I made last November. I've described who is now living there and how it feels in a place that has been abandoned and contaminated for 32 years.
Teaching week in Prague
April 2018
This month I've stayed at the Jan Amos Komenský University (Prague) within the frame of the Erasmus+ program. In the course of my stay I've given two lectures on audiovisual documentation, a research area on which there is still little international literature, and I've also visited Český rozhlas, the public radio broadcaster of the Czech Republic.
Jan Amos Komenský University
Since one of the talks focused on production research, I've taken the opportunity to visit Karlovy Vary, a spa town used as the location and inspiration for a number of film-shoots, including the box-office hits Casino Royale and The Grand Budapest Hotel.
Exhibition: Chernobyl, city of silence
April 2018
Visiting the area affected by the Chernobyl nuclear disaster of 1986 had such an impact on me that I decided to translate this experience into a photo exhibition. It's a traveling exhibit that has began its journey in La Seu d'Urgell (Lleida) and presents the devastating situation of the exclusion zone established around the nuclear power plant as a sequel to that fateful Saturday. That area included the city of Pripyat, then home to a very active community of 50.000 people, now a desolate ghost town, a silent and inhospitable place.
The exhibition begins its journey in the Sant Agustí Library
Gamified crowdsourcing
March 2018
Some social recommendation sites, such as Foursquare, TripAdvisor and the Google Local Guides program, use gamification strategies to encourage users to engage in desired behaviours via reward-based methods. Constructive inputs are rewarded symbolically to give users recognition and increase their engagement. This motivating strategy, known as funware, has been applied successfully in many platforms. However, some limitations are worth noting. On the benefits and dangers of gamification I have written a short article for ThinkEPI entitled «El funware en los sitios de recomendación social: características, claves e inconvenientes».
Lecture: personal information management
December 2017
I have given a lecture on personal information management, in the context of the Libraries and Archives in the Digital Age program of the University of Experience. This talk, framed within the course Personal Documents: Organization, Conservation and Use, has focused on the importance of personal information as an essential element in daily activity and as a reflection of life itself, and has also dealt with organization and maintenance strategies.
In the nuclear abyss of Chernobyl
November 2017
After several years of wanting to embark on this adventure, I finally entered the Chernobyl exclusion zone, one of the most radioactively contaminated areas in the world after the nuclear catastrophe of 1986. The accident forced a hasty evacuation and left an apocalyptic landscape where no one will be able to live in many years, until plutonium 239, the main threat that escaped from reactor 4, has completely evaporated.
Pripyat amusement park
On the urban consequences of the Chernobyl nuclear disaster I'm now preparing a photo exhibition. It will be a traveling exhibit that will present the devastating situation of the exclusion zone established around the nuclear power plant as a sequel to that fateful Saturday. That area included the city of Pripyat, then home to a very active community of 50,000 people, now a desolate ghost town.
Two photography awards
November 2017
I have just won two photography awards: the 1st Jury Prize of the III Photography Contest of the Festa Major de Covadonga and the Public Prize of the Photography Contest of the Festa Major d'Hostafrancs 2017. The two winning snapshots portray the spirit and the atmosphere of both celebrations, and reflect the values of social culture: local tradition, neighborhood and solidarity, and associative and participatory life. These two photographs are framed within the genres of environmental portrait and documentary photography, in which I have specialized, in my desire to explore the many expressive possibilities of photography.
One of the awarded photograhies
Paper: email in organizations
November 2017
This month I've been at the University of Zaragoza to participate in CICID 2017, the VII International Congress of Research in Digital Communication and Information. As part of a symposium on information and communication for organizational intelligence, I have presented a paper titled «El correo electrónico en las organizaciones: retos, oportunidades y tendencias en la gestión de información personal».
CICID 2017: VII Congreso Internacional de Investigación en Comunicación e Información Digital
Writing well for the web
November 2017
When people browse the web, they generally want to grab the information and use it quickly. They're looking for an answer or need to complete a task, so they want to read only what's necessary; they are too busy to read much.
With this in mind, the teachers of Communication Techniques, a course of the Information and Documentation degree, have invited me to deliver a workshop on effective writing for digital content to show how good writing practices make information clearer and help people easily find what they want.
Presentation of doctoral thesis
September 2017
After several years of meticulous work, this month I'm presenting my doctoral thesis, entitled La gestión de información personal mediante el correo electrónico: estudio cualitativo de las conductas organizadoras e integradoras, and co-directed by doctors Ernest Abadal and Mario Pérez-Montoro.
The jury, presided by Núria Ferran (UOC), was also formed by Javier Guallar (UB) and Antonio Paulo Ubieto (Unizar). After exchanging some insightful reflections, the thesis has finally obtained the grade of Excellent cum laude.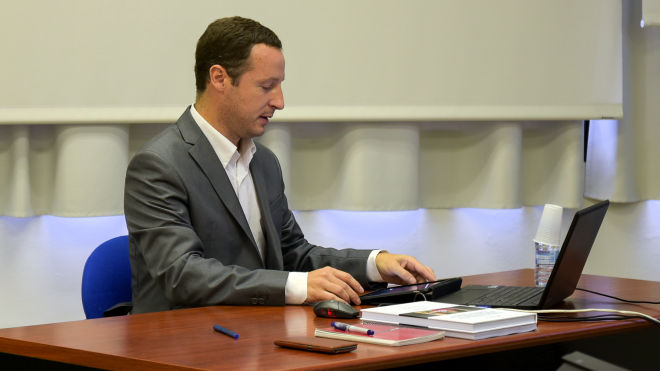 This piece of research examines the behavior of a sample of people regarding e-mail use and management, compares them in the personal and work context, investigates how they deal with common problems such as information fragmentation and over-communication, and analyzes the impact caused by new digital communication tools (social media and instant messaging).
Venice: il viaggio
June 2017
My recent escapade to Croatia, Montenegro and Slovenia has been a good excuse to expand the Adriatic experience and also visit Venice, a destination of an overflowing charm whose popularity didn't stop me from assimilating its incredible beauty. This city built on an archipelago is a unique and fascinating place that invites to get lost, literally, in its labyrinthine network of canals, narrow streets, bridges, tunnels, stairs and passageways.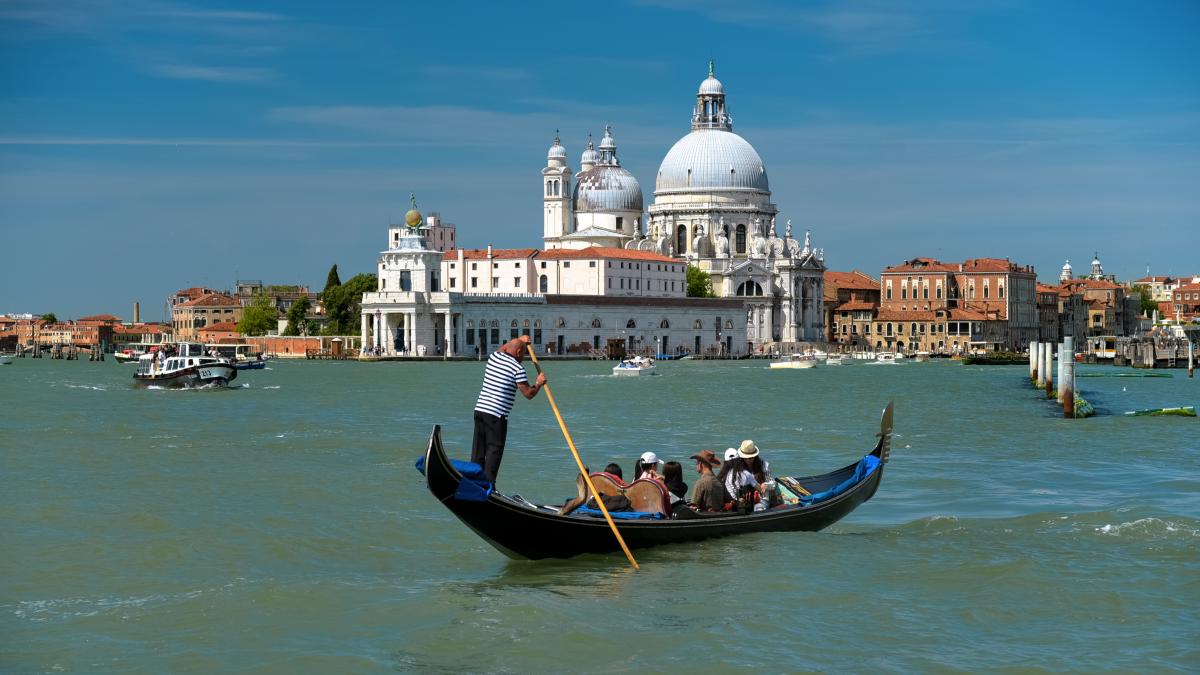 Venice
The essential
As a specialist in information management and online communication, I lecture at the University of Barcelona, where I teach Communication and Information Studies and where I'm also involved in a series of research projects.
I've authored various papers on digital information handling and related topics. Helped by innovative technologies, I'm interested in audiovisual archives and personal information management.
Among the numerous hobbies I enjoy, worth mentioning is my devotion for trekking, photography and travelling. And I have a passion for music: I'm an occasional composer, arranger and performer of contemporary music.
---
In the making
Media and information literacy
Turning information into knowledge in a competent and critical way requires skills for the search, selection, organization, transfer and use of this information. Such abilities must be acquired throughout the educational stage and teachers must be able to accompany the student through this process.
Aware of its importance, professor Sílvia Argudo and I are preparing the course «Media and Information Literacy, organized by the ICE, which aims to provide secondary and high school teachers the knowledge, skills and current competencies for the search, evaluation, organization and ethical and legal use of information in the current digital and media context.
New composition in the works
I've embarked on an attractive art project: I'm writing music for a contemporary choreography. Composing music to serve the purposes of a ballet is a challenge I always wanted to take on, and a golden chance has come up. The project also involves a dancer and choreographer, two visual artists, a multimedia artist and a location scouting expert. The show will hopefully be premiered in the Netherlands over the next year.
---
Featured
Information overload: when more is less
We live inundated with information, but we're scant of really useful information. Overabundance makes information harmful, because it's excessive; we can not handle the myriad of inputs we receive every day, so we become overwhelmed. As I've studied this phenomenon, which I contributed to popularize in the press, I've had the good fortune to be interviewed, together with Alfons Cornella, for a news report shown on TV3, the Catalan public television station, which tries to explain the causes and effects of information overload.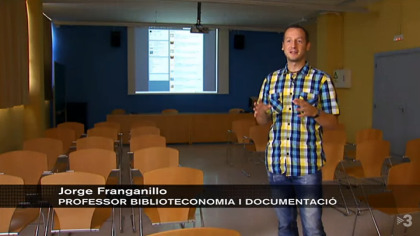 The ideas explained remind Nietzche's Human, all too human (1878-1880), so current: «There is no time for thinking, and no rest in thinking. [...] With the tremendous acceleration of life, we grow accustomed to using our mind and eye for seeing and judging incompletely or incorrectly, and all men are like travelers who get to know a land and its people from a train.»
---
Recent papers
Articles
Jorge Franganillo. «Prison blogs, a place of freedom behind bars: notes from a workshop at the Barcelona Youth Detention Centre». En: Infocommunication skills as a rehabilitation and social reintegration tool for inmates. Hershey, PA: IGI Global, 2018.
Resumen. This chapter reports on the cultural workshop which, from 2006 to 2008, encouraged a group of inmates at the Barcelona Youth Detention Centre to produce and publish blogs, as a joint project between the Òmnia on-site Internet access point, the prison library and the Faculty of Library and Information Science of the University of Barcelona. The objectives of the project were to promote inmate education, improve their level of information, encourage them to read and write more, instil some ICT skills in them or strengthen those they already had, and broaden their contact with the outside world. Prison libraries are presented as an agent that supports the intellectual, social and cultural development of inmates and thus can help them on the road to personal betterment. The prisoners' responses are critically assessed; the experience was considered positive, although the insufficient technological infrastructure and the prisoners' rejection of certain social conventions represent obstacles. Lastly, a twofold reflection is made: access to the Internet in prisons is a right that can be demanded which can assist in the integration of inmates both socially and within the workplace; and the prison library has certain requirements when it is seen as an instrument that influences the future integration of inmates.
Jorge Franganillo. «El funware en los sitios de recomendación social: características, claves e inconvenientes». Anuario ThinkEPI: análisis de tendencias en información y documentación, v. 12, 2018, p. 242−250.
Abstract. Funware is an incentive strategy that uses the rewards systems typical of games in online non-entertainment contexts, to increase community participation. This strategy motivates users to act constructively in order to obtain recognition in the form of symbolic distinctions, like points or badges, and has been successfully applied by a large number of platforms including Foursquare, TripAdvisor and the Google Local Guides program. This paper identifies the incentive elements that underpin gamification, analyzes its use on the main review sites, considers the key features in effective funware design and examines the drawbacks and dangers it can involve.
Jorge Franganillo. «Reuse of news footage: practical, legal and ethical issues». 2018. Teaching material.
Abstract. This paper first describes the characteristics of video news footage regarding its thematic variety, its historical, sociological, ethnological and corporate value, its polysemy, its redundancy and renewable interest, and its volume and diversity. Then, it discusses the practical, legal and ethical issues related to the reuse of news footage, including moral rights, some technical considerations, the identification of archive material and the proper use of shots of identifiable people. In order to illustrate these topics, some real examples are included.
Andreu Sulé, Miquel Centelles, Jorge Franganillo, Jesús Gascón. «Aplicación del modelo de datos RDF en las colecciones digitales de bibliotecas, archivos y museos de España». Revista española de documentación científica, vol. 39, no. 1, January-March 2016.
Resumen. This article discusses how and to what extent the RDF data model is applied in major Spanish digital collections of heritage materials. This model, as well as Open Data and Linked Data initiatives, are introduced. Fifty-one digital repositories were analysed to determine whether they expressed their records in RDF, offered SPARQL query points searchable by external agents, and used references as property values. The Europeana EDM and OntoWeb models are also described. It is concluded that the use of RDF is unequal and excessively conditioned by the use of applications that automatically convert records into RDF triples. Few of the collections analysed give SPARQL points for external queries. Also, the use of references is linked to applications using different models: EDM or OntoWeb. Collections should enrich their data and define aggregation levels for generated RDF data in order to be disseminated, made accessible, and adapted to the semantic web.
Jorge Franganillo. «Los desafíos de la información cuántica». ThinkEPI, 4 December 2012.
Resumen. Quantum physics, the science of the infinitely small, is so surprising and mysterious that it sounds like science fiction since it certainly defies common sense and forces us to radically change the way we perceive reality. The results of its experiments are irrefutable and they revolutionize even the world of information. Now scientists are studying how to use fundamental laws of quantum physics to improve information transmission and processing, which promises exciting new technologies in the future. Yet, it is not without its difficulties and limitations nor it suggests that quantum computers might somehow replace conventional electric computers.
Jorge Franganillo. «El aparente declive del correo electrónico». Anuario ThinkEPI: análisis de tendencias en información y documentación, 2012, p. 250-253.
Abstract. Some companies have started to restrict the use of email with the conviction that the resulting information overload undermines productivity. However, the problem is not the tool, but excessive exchange of messages, often with irrelevant information. Therefore, the real solution is to establish appropriate management strategies and avoid excessive communication. Some initiatives are committed to moving corporate internal communication to social media, although it tends to fragment the information required to complete tasks.
Conference papers
Jorge Franganillo. «El correo electrónico en las organizaciones: retos, oportunidades y tendencias en la gestión de información personal». Congreso Internacional de Investigación en Comunicación e Información Digital: CICID 2017 (7th: November 2017: Zaragoza).
Abstract. Email is the preferred method of communication in the workplace for how it facilitates collaboration and because, by acting as conduit, it helps to exercise key functions of personal information management. Many people use their mailbox to organize their tasks, documents and contacts. But they also experience difficulties in processing incoming messages, organizing conversations and documents, managing tasks and retrieving relevant information, which, in work environments, generates stress and has negative effects on employees' health and wellbeing. This paper examines the behavior of 113 workers regarding the use and management of email, studies how they face common problems such as information fragmentation and excess of communication, and analyzes the impact of new digital communication and collaboration tools.
Seda Atabay, Jorge Franganillo, M. Àngels García, Mario Pérez-Montoro, Lydia Sánchez, Sergio Villanueva. "An international collaboration on the development of a joint master's degree in cross-media journalism: the eMEDia project". Shaping the Future of News Media: the International Conference on Integrated Journalism Education, Research and Innovation (June 2015: Barcelona).
Sílvia Argudo, Andreu Sulé, Jorge Franganillo, Teresa Mañà, Anna Rubió. «Introducción de la semipresencialidad en el grado de Información y Documentación: evolucionando con la sociedad». Congrés Internacional de Docència Universitària i Innovació (2012: Barcelona). Paper.
Abstract. From the 2011-2012 academic year, blended learning is being introduced in the Information and Documentation Degree of the University of Barcelona's Faculty of Library and Information Science. All first-year subjects are offered in this format for a group of 30 students. The planning has involved establishing the conditions and degree of the blending, creating teaching materials on a virtual campus, and setting up indicators and mechanisms for monitoring and evaluation. First results suggest relevant differences with respect to the on-site model.
Mireia Ribera, Bruno Splendiani, Miquel Térmens, Marina Salse, Irene Llerena, Jorge Franganillo, Miquel Centelles. «Accessible teaching documents». Congreso Europeo de Tecnologías de la Información en la Educación y en la Sociedad: una visión crítica. (3rd: February 2012: Barcelona). Paper. Barcelona: Esbrina, 2012, p. 504-506.
Resumen. «Accessible teaching documents» is a second step on an initiative to promote best practices in the preparation of accessible teaching material by university professors. This initiative started with the publication of the Guide to accessible digital content, which explains basic techniques to make accessible office documents. «Accessible teaching documents» goes further on this initial objective, providing templates for the creation of office documents, and easy procedures to create alternate versions of them. Those alternate versions will include changes in color, fonts or other presentational attributes and also conversions to different digital formats, thus promoting inclusive education in the university by the integration of alternative formats in everyday contents.
Opinion
Jorge Franganillo. «El Manuscrit Voynich i la bellesa de l'il·legible». Núvol, 27 January 2016.
Abstract. No one knows who wrote it, nor for what purpose, nor in which language: the Voynich Manuscript is an intriguing puzzle that resists being solved. Perhaps it has no message and no other intention than enlightening the irresistible beauty of the unreadable. The symbolic universe and the obscure writing of this and other books inspired the artist Luigi Serafini to conceive the exquisite Codex Seraphinianus, a visual encyclopedia of an unknown world, illustrated with images which lead us to an imaginary world of impossible language and objects. Both books share a common virtue: the ability to raise a singular fascination with the indecipherable.
Jorge Franganillo. «Imatges d'arxiu, testimonis d'un passat». Núvol, 5 December 2015.
Resumen. Audiovisual documents have unquestionable historical and cultural value given its sociological importance and its nature as a testimony of history. Viewers are more and more used to seeing archival footage, which is very positive because then the effort made by television and film libraries to digitize and disseminate their funds makes even more sense. Safekeeping is complex and costy, but very necessary to facilitate historical research and to ensure the rigor of subsequent information products.
Jorge Franganillo. «GPS, o la lección del Dakar». Uno, 2 January 2012, p. 18.
Abstract. Dakar is a competition that stands out from other motor events because of its countless peculiarities. An example of this is that drivers are not allowed to use GPS to find their way. Instead, they must follow the directions written on a paper roll. GPS, which is useful in innumerable areas, is held by the U.S. government, which can disrupt or modify the signals if they want to, as it has done on occasion. One day it might happen that our dependence on this positioning system, whose absence in the Dakar makes this adventure even more adventurous, causes a massive disorientation.
Reviews
Jorge Franganillo. «Documentación audiovisual en televisión». Revista española de documentación científica, vol. 36, núm. 4, October-December 2013. Review of the same-titled book by Jorge Caldera and Pilar Arranz.
---
Recent pictures